Tools

We utilize a vast array of tools to get the job done right. While we do use modern power tools, there is a special place in our hearts for the hand tools our grandfather used back in the 30's to make his living. This is a heritage we keep going today. Some of our hardest working tools were once his 80 years ago. We are proud of where we come from. If Grandad was still around today, we'd like to think he'd be proud of us too.
The Screwdriver
If you're not nailing two pieces of wood together, you're using screws. this tool has been around for hundreds of years.
The Chisel
Excellent for cleaning out wood shavings from in between joints and mortises, the chisel is a staple for woodworkers.
The Level
Nothing is straight without this handy little guy. Perfectly horizontal or vertical pieces require his help. He keeps us in "line".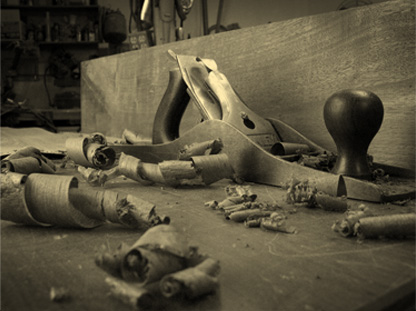 Claw Hammer
Every woodworker needs a reliable claw hammer. It's the most vital tool for getting two pieces of wood together.
Utility Knife
Excellent for scoring a piece of wood before a cut, or to measure against existing wood stock. Measure twice and cut once.
Sliding Bevel
Make sure you're angles are the same all around the project. We use it to measure our angles and get them all equal.